Perry Plantation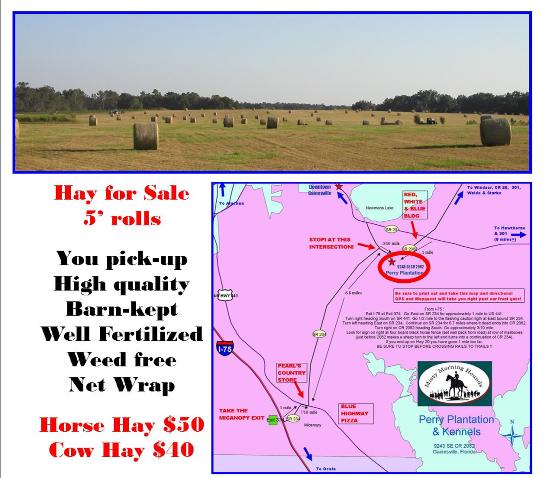 The 527 acre historic Perry Plantation was the home of the 4th Governor of Florida, Madison Starke Perry, in the mid-1800's, and is now home to the Misty Morning Hounds Kennels, as well as it's Joint-Masters, Mac & Alexis Macaulay. Gov. Perry died just prior to the start of the Civil War. He is the only Florida Governor from Alachua County and has had three Florida cities named after him: Madison, Starke, and Perry.
The property has been used consistently as a working farm since the 1800's and is one of the largest existing working farms in Alachua County. During Gov. Perry's life, the property was used for growing cotton, citrus, tung oil trees, cattle, and row crops. The community of Rochelle (located 7 miles from Micanopy) was located directly on the Railroad and Old Stagecoach throughway, and was the hub of business activity – much larger and more active than Gainesville, which only sprouted wings after the University of Florida moved-in. The farm also houses the site of the first civilian fort in Florida (during the Indian wars), and there have been numerous Indian and Civil War artifacts found on the plantation.
The Perry Plantation is now currently used for growing hay, raising horses, and the home of Misty Morning Hounds. Misty Morning Hounds is a drag-foxhunting club, where a scent line of anisette liquor is laid for the American Foxhounds to follow, and the riders & horses then gallop and jump to keep-up. The club adheres to all the traditions, customs and ambiance of historic English Foxhunting.
The manor house serves as the clubhouse to Misty Morning Hounds, and is the residence of the owners, Mac & Alexis Macaulay. Wildlife abounds on the property, and a morning or sunset tour are perfect opportunities to view large herds of deer, hawks, owls, sandhill cranes, Bald eagles, fox, coyote, raccoon, fox squirrel, and even the occasional panther.